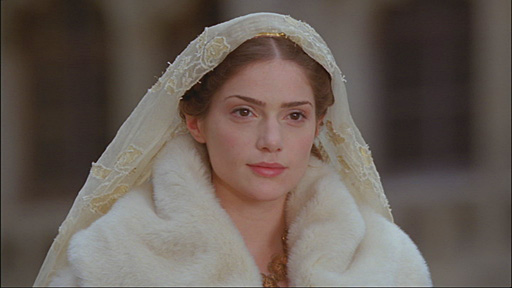 Raiders led by the Southron warlord Helios (
Terence Maynard) attack the village where Gwen has been hiding out and she is taken as a potential concubine for Helios. However, she soon discovers that Helios is in league with Morgana, who plans to obtain details of secret passages under Camelot to allow his soldiers easy access to the castle.

Meanwhile, Arthur has agreed to marry
Princess Mithian (
Janet Montgomery), of Nerath to resolve an ancient land dispute and bond their two countries together. Everyone is happy with this except for Merlin, who knows that Arthur is fated to marry Gwen, but isn't sure how much he should do to give fate 'a helping hand'.

His case isn't helped by the fact that the Princess is not only very attractive but has a great personality that is appealing to Arthur.

Gwen escapes from Helios (determined to tell Arthur of the plan), but with Morgana on her tail and it doesn't take long for the crafty sorceress to catch up her former maidservant and put a particular wicked enchantment on her.

Another brilliant episode, The Hunter's Heart again explored Arthur's dilemma between duty and love, while again drawing attention to the value of a man's word being set by his status rather than the veracity of his claims.

Even though Arthur, Gaius and Gwen know that Agravaine is the rot at the heart of Camelot they have no way to convince Arthur - and risk death or exile if they push their luck too far. And Merlin goes the furtheest he has dared yet, but actually telling Arthur that Agravaine has stolen the tunnel plans... but to no avail.

We also learned a bit more about Morgana's magic in this episode - although perhaps others had picked this subtlety before: the fact that she can only enchant something she can see. I think this might apply to Merlin as well and could be a central element of how magic works in Merlin, but I'd never really noticed it before. It certainly explains why Morgana needed to hunt Gwen down, rather than harming her from a distance.