We did it! Rachel and I completed the sponsored walk this morning and helped raise over £1,000 (
so far
) for The Stroke Association.
There were about 40 or 50 people taking part, including a number of fellow stroke survivors (
some much younger or physically worse off than I
).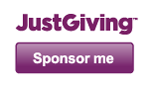 The course, about a third of a mile, ran round a loop through fields neighbouring Pensurst Place (
just outside Tonbridge
), which meant part of our circuit passed through a large herd of docile sheep (
much to the delight of Bubbles, a sprightly young dog, who was accompanying his owner on the walk
).
I'd said I would do three laps and that's what I managed. I'll be honest, I had been inwardly a bit cocky and thought that would be easy (
as my medical records say I can manage a mile
), but I'd forgotten that most of the walking I do (
into Tonbridge High Street and back
) includes a lot of stops and retail therapy along the way.
As we were nearing the end of our third lap I was really starting to feel the aches and get a stitch, so I knew I'd reached my limit.
Along the way we chatted with other people whose lives had been touched by stroke and every conversation, in its way, was inspirational - if for no other reason than simply to remind me that I'm not alone and other people are suffering the same (
or similar
) problems brought on by a stroke.
The event organisers, from
The Stroke Association
, were lovely as well. May is the third annual national
Action On Stroke
month and our sponsored walk was the first event in a busy calendar of similar walks across the country. There's even a chance that Rachel and I will be featured in their promotional material to encourage others to take part in fundraising activities.
I'm so pleased that Rachel and I did this walk and helped raise awareness of impact of this life-changing condition. I still can't believe how much we raised. The support has been amazing from family and friends, old and new, around the globe.
Our JustGiving page will remain open for a while yet if anyone else wants to contribute to this worthy cause.