Training Begins...
In mid-June, Alice will be joining Rachel and I
in an "all-abilities" sponsored walk in aid of The Stroke Association
.
The event, in Capstone Park, Chatham, is one of a number of
Step Out For Stroke
walks going on around the country.
Each
Step Out for Stroke
event has a course, starting and finishing in the same location, and most are around one mile in length. Depending on your ability you can set your own distance: 10 steps, 100 meters, one mile or 10 laps.
I'm not sure how far I'll be able to hobble, but I aim to go as far as I can and having Rachel and Alice there with me will encourage me to take that extra step.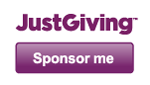 This is the second time I have taken part in this event, having raised over £1,000 back in 2014, thanks to amazing support from friends and family around the world.
I am excited - but also nervous - to see if we can do as well this year in support of this great cause.
I have initially set our target as £500. Let's see if we can hit that in the next two months.
It's 12 years since I suffered my stroke during the emergency, lifesaving operation at Kings College Hospital in London, after my sudden aneurysm, and while it has left me unable to work, walking with a limp, memory like Swiss cheese and prone to panic attacks (
as well as numerous other fun little side effects
), I consider myself lucky.
There are many people who are far worse off than me and they are the ones The Stroke Association can help.
Stroke Association research has the ultimate aim of making stroke a preventable and treatable disease, and improving the quality of life for people affected by stroke.
The findings from this research are crucial in the search for new ways to:
prevent a stroke happening
find new, or improve existing treatments for those people who have a stroke
understand how the brain works and changes after a stroke.
A stroke can change a life in seconds.
Please give what can to help this important charity in its crucial research.