If I wore roller-skates Alice could just pull me along!
Thanks to all your marvellous support so far for
my sponsored walk in support of The Stroke Association
, I'm over 70 per cent of the way towards my initial goal of £500.
Alice and I (assisted by Rachel) will be participating in an in an "all-abilities" walk in Capstone Park, Chatham, next month, one of a number of Step Out For Stroke events going on around the country.
I'm incredibly touched by the amount we have raised already.

This is incredible, especially given that health-wise this as been another rough seven days in our house: Rachel has been stricken with a hacking cough and cold, and her germs have been bombarding me all week, eventually laying me low on Saturday night. So once again my eye wasn't always on the ball when it's come to training and self-promotion.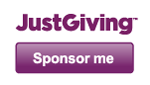 Each
Step Out for Stroke
walk follows a course, starting and finishing in the same location, and most are around one mile in length.
You can set your own distance, depending on your ability: 10 steps, 100 meters, one mile or 10 laps.
If I can hobble round the circuit once I will be very pleased.
It's 12 years since I suffered my stroke during an emergency, lifesaving operation at Kings College Hospital in London (
after a sudden aneurysm
).
While it has left me unable to work, walking with a limp, memory like Swiss cheese, and prone to panic attacks (
as well as numerous other fun little side effects
), I consider myself lucky.
There are many people who are far worse off than me and they are the ones The Stroke Association can help.
This is the second time I have taken part in
Step Out For Stroke
, having raised over £1,000 back in 2014, thanks to the incredible backing of friends and family around the world.