Alice Is Happy Because We Hit Our £500 Goal...
We've hit my initial goal of raising £500 for
The Stroke Association;
so a massive thank you to everyone who has contributed so far, and to those who have been helping get the message out.
Next month Alice and I (
assisted by Rachel
) are taking part in a
my sponsored walk raising much needed funds for The Stroke Association
.
This is an "all-abilities" walk in Capstone Park, Chatham, in June, one of a number of Step Out For Stroke events going on around the country.
Each
Step Out for Stroke
follows a course, starting and finishing in the same location, and most are around one mile in length. Depending on your ability you can set your own distance: 10 steps, 100 meters, one mile or 10 laps.
If I can hobble round the circuit once I will be very pleased.
I'm now aiming to raise £750, which I realise is a bit optimistic, but I'm being bouyed along by the incredible support I've received already from friends, family, and strangers at home and around the globe.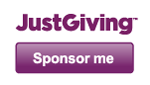 It's 12 years since I suffered my stroke during an emergency, lifesaving operation at Kings College Hospital in London (
after my sudden aneurysm
).
While it has left me unable to work, walking with a limp, memory like Swiss cheese, and prone to panic attacks (
as well as numerous other fun little side effects
), I consider myself lucky.
There are many people who are far worse off than me and they are the ones
The Stroke Association
can help.