Alice has her own ideas of where we're going...
This weekend Alice and I (
ably supported by Rachel
) are taking part in the "all-abilities" sponsored
Step Out For Stroke
walk in
Capstone Park, Chatham
.
I'm slightly anxious about the weather, as the heat has been rising all week and the forecast is saying 27°C for the weekend.
While most people welcome this heat as a chance to kick back, crack open a beer, and take in some rays, it plays havoc with my metabolism, making me quite dizzy and unstable, blurring my vision, and making me even more crotchety than normal.
The other weekend, while I was standing outside a vintage steam engine event, waiting for Rachel to fetch the car, I passed out in the heat. One moment I was chatting to some people about Alice and the next thing I know my bum was hitting the pavement.
The people there were wonderful and took great care of me, and once I was in the car heading home I started to feel a lot better, but it was a nasty shock for Rachel and I.
And the temperature that weekend was nowhere near that predicted for this weekend.
Of course, I'm better prepared this time. I'll have Rachel by my side, with plenty of water, a hat to avoid sunstroke, snacks to keep my blood sugar levels up etc so I'm sure everything will be okay.
Every
Step Out for Stroke
walk follows a course, starting and finishing in the same location, and most are around one mile in length. You can set your own distance, depending on your ability: 10 steps, 100 meters, one mile or 10 laps.
If I can make round the circuit once in this heat I will be
very
pleased.
I realise a mile may not seem far, but for me these days it will be quite a feat.
It's 12 years since I suffered my stroke during an emergency, lifesaving operation at Kings College Hospital in London (
after my sudden aneurysm
).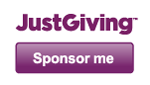 While it has left me unable to work, walking with a limp, memory like Swiss cheese, and prone to panic attacks (
as well as numerous other fun little side effects
), I consider myself lucky.
There are many people who are far worse off than me and they are the ones
The Stroke Association
can help.
The Chatham walk is one of a number of events around the country, aiming to both raise
funds for The Stroke Association
and awareness of the work they do.
We've already surpassed my initial goal of raising £500 and, at last count, are now over 85 per cent of the way
towards my new target of £750.

So a massive thank you to everyone who has contributed so far, and helped spread the word of my fundraising.

The incredible support I've already received already from friends, family, and strangers at home and around the globe, has helped buoy me up enormously.
My fundraising website, on
JustGiving
, will remain active for a few weeks after the walk, so this isn't the last you'll hear of me rattling my tin cup...
Stroke Association
research has the ultimate aim of making stroke a preventable and treatable disease, and improving the quality of life for people affected by stroke.
The findings from this research are crucial in the search for new ways to:
prevent a stroke happening;
find new, or improve existing treatments for those people who have a stroke;
understand how the brain works and changes after a stroke.
A stroke can change a life in seconds.