Today is Swords & Wizardry Appreciation Day and I can think of no better time to resume my on-going conversions of elements from the BBC's brilliant Merlin serial to Crypts & Things (my Swords & Wizardry iteration of choice). (From

The Tears Of Uther Pendragon,

Part One

and

Part Two)
Mandrake Root Poppet
The poppet is prepared by an evil sorcerer using a fifth level black magic ritual that involves obtaining some bodily fluid from the enchantment's target (
e.g. blood, urine, tears etc
), which is mixed into a boiling magical potion into which a mandrake root is soaked.
The root is then secreted within six feet of its target and once an hour has passed its magical effects will start to take place. The magic will only affect the person whose bodily fluids were used in the ritual.
The magical coating on the root must be renewed every 24 hours or else the enchantment is broken. However, if the coating is refreshed continued exposure to its target will have a cumulative effect.
The first night the target spends adjacent to the mandrake root poppet he must make a Sanity check by rolling 4d6 against his Wisdom + Level. If any three dice come up as 6s, then a permanent point of Wisdom is lost. Even a successful check will see him lose 1d3 Sanity points, while a failed check will result in 1d6 Sanity loss.
The second night of exposure requires a 5d6 STAT save, the third a 6d6 Save and so on.
For the effects of lost Sanity see
Crypts & Things
, page 26.
During all this, the target will be subject to horrendous nightmares and fitful sleep, meaning he will be unable to heal any damage (
either physical or mental
) and, during his waking hours, will suffer vivid hallucinations drawn from his own subconscious guilt and fears. These will be adjudicated by the Dungeon Master as he sees fit, but will almost certainly make the character a major liability.
However, the spell can be broken by destroying the poppet (
if it can be found
) with fire. The magical nature of mandrake root means that when it is burnt it emits a piercing scream that can only be heard by those gifted with magical abilities.
The victim will then recover with 24 hours of total rest and will no longer be subject to hallucinations.
Rowan Staff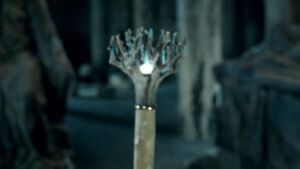 Carved from the rowan tree at the heart of the Isle Of The Blessed, this powerful, single-use magical item needs to be taken to a place of the dead where its wielder then drives it into the floor or ground - its magic is such that it will splinter rock regardless of how physically weak the user is.
This act will also be felt by any magic-users within a one mile radius, a feeling akin to "someone walking over your grave".
The staff then remains erect and projects beams of light from its head piece to the resting places of all the dead within 100 yards (
to a maximum of 6d6
).
A round later the skeletons of all those touched by the light will erupt from their tombs - tearing through dirt, smashing out of coffins etc, armed with any weapons they were buried with, and will obey a single, simple order given by the person who activated the staff (
such as "attack my enemies"
).
The skeletons (
see below
) must remain within one mile of the staff, but will remain active as long as it isn't removed from the ground or destroyed (
it takes only 10 hit points of damage from an edged weapon to break the staff
). Should either of these things happen the skeletons will collapse back into a pile of bones where they stand.
Skeletons Of The Staff

#ENC:
6d6
HD
: 1
AC
: 8 [11]
#Atk
: 1 (weapon or claw strike for 1d6)
Move
: 12
ST
: 17
Special
:
Undead - immune to sleep, charm, mind control etc
Damage Resistance - edged/piercing weapons do only 1HP of damage per strike (plus any magical bonus). All other attacks do normal damage.
Indestructible - As long as the Rowan Staff which raised them is still intact whenever a skeleton loses all its hit points it will collapse into a pile of bones only to rise again a round later with its full hit points. Only if a skeleton is somehow pulverised (e.g. rock fall, giant attack etc) can it be eliminated while the staff remains unbroken.
CL/XP
: 3/60
NEW SPELL
Disarm
Grey Magic
First Level
A refined version of the "
Move
" spell with a more specific purpose. With a range equal to the Wizard's Intelligence times 10ft, this spell can cause its victim to drop whatever they are holding in their hands (
be it a weapon, shield, torch etc
) if they fail a Saving Throw versus magic. However, if the victim is unaware that he is the target of a spell he makes two saves and can only use the lower score.
-------------------------------------------------------------------------------------------------------
And as an added "bonus" here is
a link to a PDF download of my current character creation houserules for Crypts & Things
. Some of these will be changing as I move forward with my new ideas for a campaign, but I thought people might be interested to see them as they stand.
This packet includes creation rules for the traditional fantasy races (
ie. elf, dwarf, halfling
), which will almost certainly not be staying in my next - and final - iteration of houserules as I'm seeking to take my interpretation of
Crypts & Things
back to its original human-centric swords and sorcery roots.